Great Finds
Contact Kirk to Check Current Stock & Order 
707.364.1709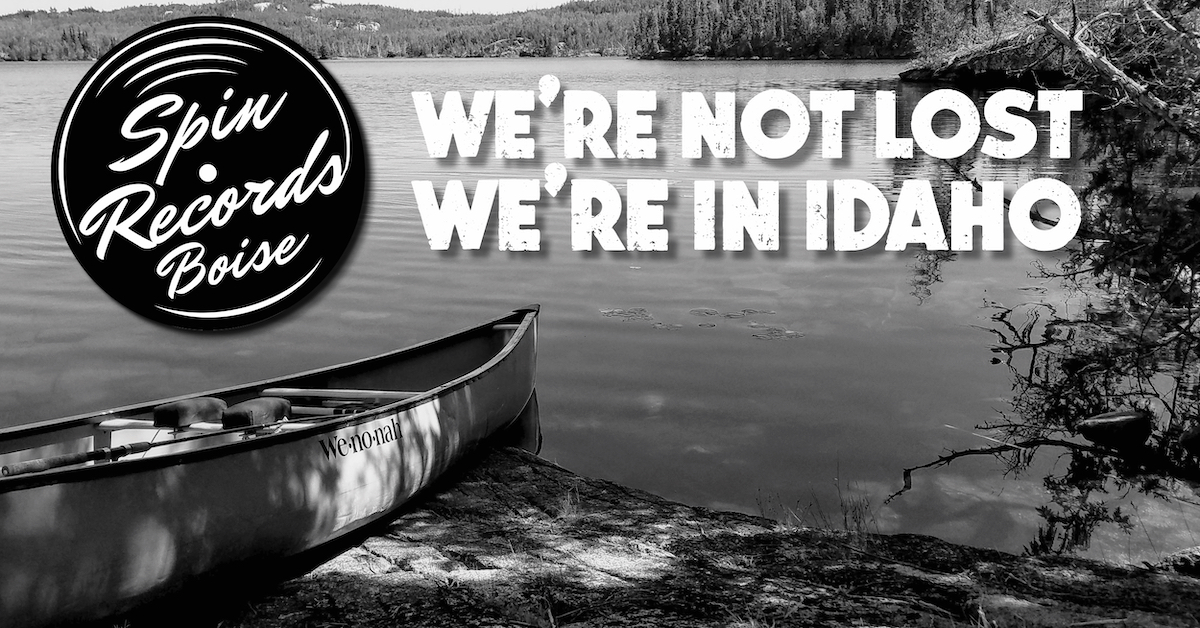 We're not lost
After four years in Petaluma, Ca, Spin Records has relocated to Boise Idaho. We are an online store only so please follow us on Facebook and Instagram for updates and info on new additions to our rare and vintage record collection.
We can now ship anywhere in the USA
We are now buying records too. If you are in the Boise area, call Kirk for more info or to make an appointment to sell your records.
707.364.1709
Commander Cody (AKA George Frayne IV) was born in Boise in 1944.
Rare Vinyl Alert!!! Doors LA Woman
Call to Check Stock: 707.364.1709
Spin Records Petaluma has a nice original pressing of the Doors' 1971 album "L.A. Woman". Cover features a cut-out window with clear acetate, on which the band photo is printed black half-tone.
The Complete Studio Recordings of The Miles Davis Quintet, 1965-1968
Call to Check Stock: 707.364.1709
Excerpt from
MilesDavis.com
By 1965 Miles Davis had gone through a handful of stages, from the Birth of the Cool nonet's multihued orchestrations to the development of a hard-bop sound keeled on Davis's mid-register wooziness and the band's driving backbone in the "first" great quintet (featuring John Coltrane), to the modal freedom of Kind of Blue. So when the solidly established Davis convened a new quintet, known as his "second" great one, and hired youngsters Wayne Shorter, Herbie Hancock, Ron Carter, and Tony Williams, it seemed a skewed move. These six CDs show just how creatively and intelligently skewed the move really was. The material here, which has also been reissued on expanded single CDs of the main full-length original LPs (E.S.P., Miles Smiles, Sorcerer, Nefertiti, Miles in the Sky), is immediately and unceasingly startling. Davis & Co. were quickly discarding their live performance practice of playing loads of standards and were further discarding traditional melodic structures for more rigorous harmonic exercises. Shorter in particular, at times the most prolific composer in the band, was advancing his tunes and his solos in equal proportion. The tunes are increasingly sharp-edged and, with Williams driving the band with a categorical balance of abandon and control, loopily energized. Miles blows with tighter and tighter control of his tone even while the band seems to be finding all kinds of expressive freedoms that easily elongate into lengthier studies. Toward the end of this box, you'll hear the seeds of the Miles that went on to unloose Bitches Brew. Even though the roots of the aggressively electric Miles are in these sessions, there are uncategorizable points of beauty strewn all over the tunes.
Pink Floyd: The Piper At The Gates of Dawn
Call to Check Stock: 707.364.1709
The Piper at the Gates of Dawn is the debut studio album by the English rock band Pink Floyd, released 4 August 1967 on EMI Columbia. It is the only one made under founding member Syd Barrett's leadership.
---
John Coltrane: A Love Supreme
Call to Check Stock: 707.364.1709
Excerpt By Eric Westervelt from NPR.org:
"John Coltrane recorded A Love Supreme in December of 1964 and released it the following year. He presented it as a spiritual declaration that his musical devotion was now intertwined with his faith in God. In many ways, the album mirrors Coltrane's spiritual quest that grew out of his personal troubles, including a long struggle with drug and alcohol addiction."
---
Charles Mingus: The Black Saint and the Sinner Lady
Call to Check Stock: 707.364.1709
Excerpt By Ian Ridsdale from KCPR.org:
"Noted as one of the first jazz albums to use overdubbing, a studio technique that allows for multiple different tracks to be played at once, this album pushes the boundaries of the sound of jazz. Included on the sleeve of the record is a detailed description of the album by Mingus' psychologist, who attempts to give an account of what must have been going through his client's head when he wrote the music. Mingus also includes titles for each track, such as "Heat's Beat and Shades in Physical Embraces" and "Stop! Look! And Sing Songs of Revolutions!" to provide detailed descriptions of what he seeks to portray."
---
---
Charles Mingus: Mingus Plays Piano
Call to Check Stock: 707.364.1709
Excerpt from Allaboutjazz.com:
"Mingus Plays Piano is one of the most beautiful recordings, period. It is on its own terms perhaps a more personal statement than even the masterpiece The Black Saint and the Sinner Lady. While indulging in absolutely none of the ear-straining superficial ugliness of much of the "new jazz" music of the period, it manages to attain to the personal exposure and honesty to which many New Thing-ers aspired. Anything by Mingus is worth hearing; Mingus Plays Piano should be in the first rank — so far from a mere novelty as to be one of this great artist's finest hours."
---
---
Kannibal Komix
Call to Check Stock: 707.364.1709
Band name used for non-German issues of the album "Kannibal Komix" by Die Anderen.
Excerpt from Forcedexposure.com.
"The anthemic Kannibal Komix song "Neurotic Reaction", produced by Moroder in these sessions, deserves to be included on a garage compilation next to classics like "Try It" by The Standells... Maybe this explains why they were spotted at Hamburg's Star Club and picked by some American managers to sign a deal with Colossus Records. Their almost perfect vocal harmonies and soft psych tunes spiced with a pinch of fierce guitars made the band sound very interesting for the US market but the group needed a new name: Kannibal Komix (or Apocalypse in other territories)."
---
---
Dr. John, The Night Tripper, Gris Gris
Call to Check Stock: 707.364.1709
Gris-Gris is the debut album by Dr. John. Produced by Harold Battiste, it was released on Atco Records in 1968. The musical style of Gris-Gris is a hybrid of New Orleans rhythm and blues and psychedelic rock.
Excerpt from Rolling Stone by Tom Moon.
"Put on Dr. John's 1968 debut, Gris-Gris, and no matter where you are, it becomes nighttime on a lonely bayou and you are the unwelcome, painfully out-of-place tourist. Every living thing is moving stealthily and slowly. Along comes a croaky old critter, snake-oil-selling the power of his gris-gris, talking about the way he gonna make somebody pay, the damage he can do with dust and potions and the mists of the swamp night. "Put gris-gris on your doorstep/Soon you'll be in the gutter," he sings. "Melt you like butter/I can make you stutter." Gris-Gris is the New Orleans appropriation of California psychedelia, dressed up in Mardi Gras finery and spiced like a gut-busting gumbo. Pianist Mac Rebennack, who created the character Dr. John while working as a session keyboardist in Los Angeles, ran it down just right: Casting himself as an all-seeing brujo equipped with cures for common ailments and metaphysical quandaries, he became a Cajun Captain Trips, a flamboyant ringmaster who dispensed advice and cutthroat commentary with a pinch of French Quarter mumbo jumbo."
---
---
Jimi Hendrix, Live At The Forum
Call to Check Stock: 707.364.1709
Notes from Discogs:
This is an un-official pressing of the Live concert. Copies like this are (1st issues) pressed on black vinyl with custom (see photos) designed labels. They were housed in a white hardboard cover and usually have a purple inked flier/poster either glued to the blank cover or was inserted inside with vinyl. They also included a small insert with full song list mimeographed (typed text) in blue ink. There are many other later pressings with colored wax, marbled vinyl. Some stating labels such as: Rubber Dubber, Munia and Hen Records. Pressings with said info are later copies as 1st issues do not state any label maker or other info.
---
---